Understand and Adapt
Every runner is different. Coaches who understand this and adapt are usually more successful. The physiological demands of distance running have not changed, but how coaches approach training their teams to meet those demands varies year by year depending on the needs of the athletes. This is a common theme throughout the country. Coaches must understand and adapt to the specific needs of the events and, more importantly, to the specific needs of their athletes. Bill Bowerman was correct when he said, "If someone says, 'Hey, I ran 100 miles this week. How far did you run?' ignore him! What difference does it make? The magic is in the man, not the 100 miles." Bowerman understood that training trends were not solely responsible for success. Everything hinges on understanding the needs of the individual athlete. The overall goal is to improve the fitness of individuals by developing their aerobic capacity, strength, speed, flexibility and running economy. Distance coaches must not only understand how the body and mind responds and reacts to training, but also how each individual adapts. Once we understand what our athletes need, we can adjust our training accordingly to help athletes reach their potential.
Kevin Kelly, head coach of West Chester Henderson HS in Pennsylvania, has produced: two NXN qualifying teams, the 2014 PENN Relay DMR champions, five state championship teams, two runner-up teams, individual state champions, individual runner-ups and nine guys under 4:20 in the mile. Kelly believes that a key to success is that, "The coach has to be as invested as the kids... There is no secret workout plan. Building a relationship with your athletes is the number 1 priority." Notice that the focus is not on mileage, speed or strength. It is on building a relationship with the athletes. He goes on to say, "We adapt the training to specific athletes because some kids are not built to handle all of the strength work - so we may cut their mileage a little and give them a little more recovery in workouts." Developing a relationship with his athletes enabled him to adapt his training plan to meet their needs. It obviously worked.
PENN Relay DMR Champions- Henderson HS
Mark Wieczorek's individualized approach to coaching led his Gig Harbor team to an NXN championship. Wieczorek's states that, "all the training they do is to achieve a very specific physiological stimulus." His training is, "structured to gain as much adaptation as possible to the demands of each individual athlete." In his "recovery based program, training volume and intensity is always dictated based on the individual's ability to recover properly and stay healthy, physically and mentally." He adapts training on a daily basis in order to allow each runner to reach their potential. Their individual potential led to more than just an NXN championship. His athletes placed 2nd at NBIN in the 4 x 1600m and won the Washington XC State Championship. Knowing where his athletes are physically and mentally has proven to be an invaluable coaching method.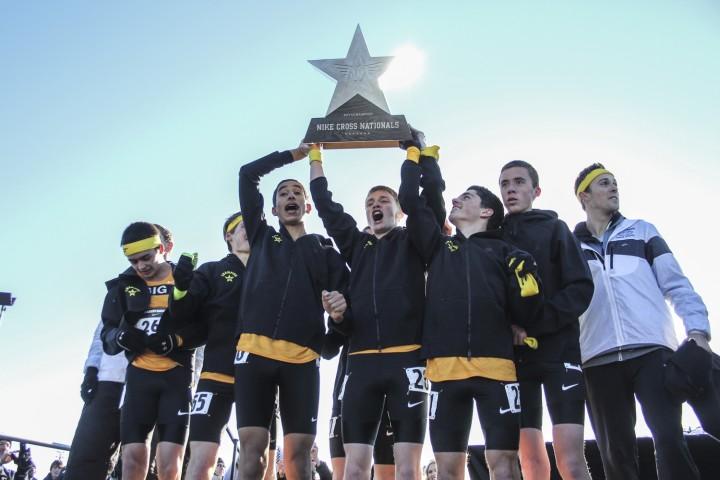 Mark Wieczorek and his NXN Champions -Gig Harbor
Steve Shaklee of Cherokee high school in New Jersey has had consistent success by "individualizing training as much as possible...adjusting the volume and intensity based on the particular needs of the athlete." His coaching philosophy is simple, "promote team goals but train the athletes as individuals, focusing on giving each athlete what they need to reach their potential." Shaklee has produced a New Jersey XC Meet of Champions individual winner, state champions, a second place team in the 4x800m relay at NBIN with a time of 7:43 in 2012. While Shaklee acknowledges that the emphasis through all phases of training is the same, he identifies what his individuals need and makes specific training adjustments.
Around Birmingham it is the same philosophy. Devon Hind of Hoover HS, Lars Porter and Tom Esslinger of Homewood HS, all adjust their training according to the needs of their team each year. Coach Hind's training changes from year to year. He states, "I don't think I've ever had years when the training is like the years before. The team is always different with different needs...I have a tough workout right away to see where we are as a team and then I adjust my thinking of what they need from there." While he admits he does not do anything scientific, coach Hind manages to prepare his athletes to contend for a state championship every year. His individuals always make them a tough team to beat. Coach Esslinger states, "I am a huge believer in adjusting workouts based off individual needs... It is our job as coaches to find the place where our athletes fit the best to get the most out of their ability." He and coach Porter manage a thriving team at Homewood where Porter sets up "three major training groups. Each of the athletes are placed in a group to match their goals, abilities and training age. The volume and intensity of the group varies...within the plan we constantly make adjustments for individual athletes to improve their strengths and attempt to build their weaknesses." Both have produced state championship teams, individual champions and will continue to have success because they focus on the individual needs of the athletes with-in their program.
The focus on the individual is invaluable to building a strong program. Teams are successful when a coach formulates a training plan where individuals can thrive with-in a system created to serve the needs of the team. While training intensity and volume may be adjusted, the workouts are crucial to preparing athletes to meet the challenges of a race. How coaches set up a training plan and approach workouts will be addressed in the next article. I will address how they handle issues like determining pace and recovery for workouts. I will also show how they approach strength training, speed development and biomechanics. In a later article, I will highlight the psychological side of distance running and how significant it is for every competitive runner.
Zelwak